In 2018 it is three years since the National Ambulance LGBT+ Network was first discussed, we have been supported by a number of people in both the development of the Network, and the two well celebrated conferences.
We have also met some truly inspirational people along the way and there is no doubt the Network would not be established as it is without their input.
We would like to celebrate the achievements of the Network, and the people in it, by introducing the gold star of life. Building on the success of the rainbow and trans versions, we hope the specially made gold pin badges will help us to recognise our stars.
Alistair Gunn, Chair of the National Ambulance LGBT+ Network, explained, 'After three years of developing the Network it seemed right that we should say thank you to the many people who have supported us. Kirsten and myself took some time to think about all the people who have made a difference in the first three years and the conference seemed like the perfect place to celebrate. We hope to make this an annual event and get all the Networks involved in a nomination process'.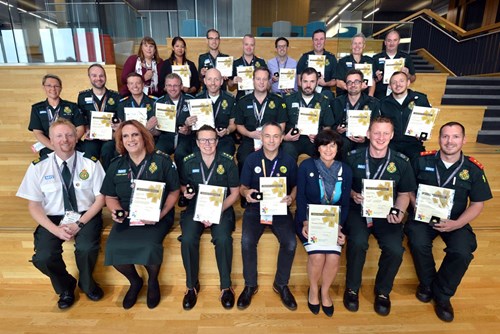 Three categories of award have been created:
People that made an exceptional contribution to LGBT+ Staff Networks.
People who have supported the development of the National Network.
Inspirational people who are recognised for supporting the LGBT+ cause.